ROCKFEST 2023 LIPUT MYYNNISSÄ NYT
OSTA LIPPUSI TÄSTÄ!
–––––––––––––––––––––––––––––––––––––––––––––––––––––––––––––––––––––
Suosittelemme ostamaan lipun mahdollimman nopeasti.
Mitä aiemmin ostat festarilipun, sitä edullisemmin saat sen. Lippujen hinnat nousevat tapahtuman lähestyessä. Vain ostamalla lipun ajoissa, varmistat sisäänpääsyn. Tietyt lipputyypit myydään loppuun jo merkittävästi ennen kesää. Esimerkiksi VIP-liput myydään vuosi vuodelta nopeammin loppuun, varmista siis omasi heti! 🔥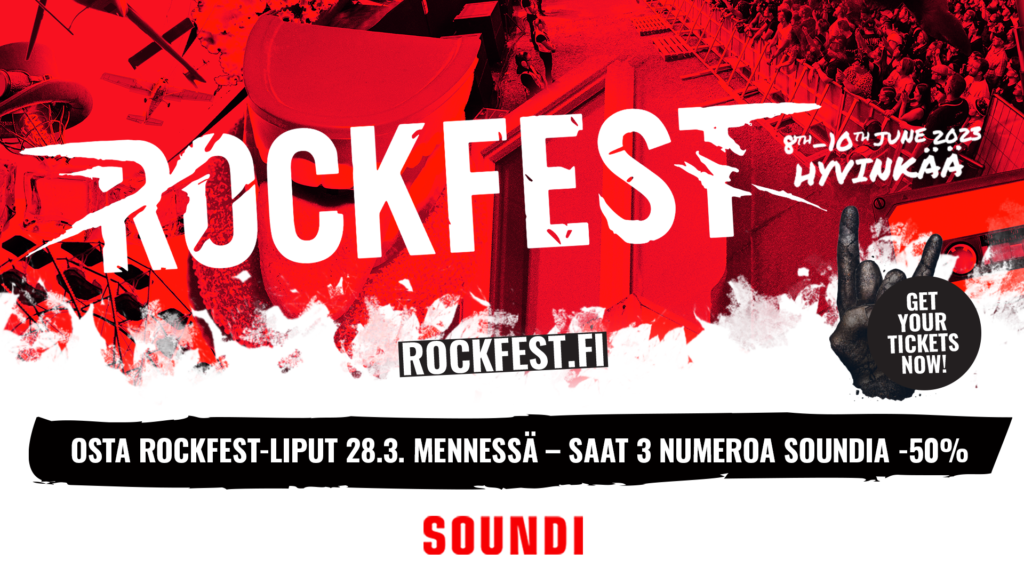 ROCKFEST 2023 TICKETS ON SALE NOW
Tickets are sold by Tiketti and Lippu.fi
We highly recommend to purchase tickets at your earliest convenience. Ticket prices go up as the festival gets closer.
CURRENT SITUATION OF TICKET SALE
3 DAY TICKET
2 DAY TICKET (THU-FRI)
2 DAY TICKET (FRI-SAT)
1 DAY TICKET (THU)
1 DAY TICKET (FRI)
1 DAY TICKET (SAT)
3 DAY PREMIUM TICKET
1 DAY PREMIUM TICKET (THU)
1 DAY PREMIUM TICKET (FRI)
1 DAY PREMIUM TICKET (SAT)
3 DAY VIP TICKET
1 DAY VIP TICKET (THU)
1 DAY VIP TICKET (FRI) – ACT NOW
1 DAY VIP TICKET (SAT)

FESTARILIPPU JA KULJETUKSET
Nyt voit ostaa festarilipun ja kuljetuksen samasta paikasta! Korsisaari myy festarilipun ainoastaan kuljetuksen yhteydessä. Mikäli haluat pelkän festarilipun, ostathan sen suoraan Lippu.fi:stä tai Tiketistä 👆🏼

Kuljetukset Rockfestiin järjestetään seuraavilta paikkakunnilta: Forssa, Heinola, Helsinki, Hämeenlinna, Jyväskylä, Kiljava, Klaukkala, Kouvola, Lahti, Lappeenranta, Lohja, Mäntsälä, Nurmijärvi, Pori, Rajamäki, Rauma, Riihimäki, Salo, Tampere ja Turku. Katso lisätiedot ja osta liput alta! Kuljetukset järjestää ja myy Korsisaari.